donate today and help impact change... make a change.
Impact Change Now is a non-profit 501 (c) (3) organization and is operated exclusively for educational and charitable purposes within the meaning of Section 501 (c) (3) of the Internal Revenue Service code. Our organization has been in existence since 2015 and shall not be operated for the private gain of any person. The property of the corporation is irrevocable dedicated to its educational and charitable purposes and no part of the receipts or net earnings shall be used for any activities other than its mission. Impact Change Now will always retain control over the contributed funds.
Please note: No credit card information is ever stored on our servers. We use Stripe.com, one of the most secure and reputable payment processors available. All card numbers are encrypted on disk with AES-256.
Stripe's infrastructure for storing, decrypting, and transmitting card numbers runs in separate hosting infrastructure and doesn't share any credentials with Stripe's primary services (API, website, etc.) For more information, you can visit Stripe's security policy right here!
In other words, your credit card details are safe!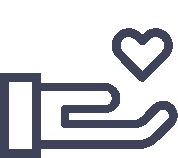 "Whoever is generous to the poor lends to the Lord, and he will repay him for his deed."